Tour Pagan


Bagan Buddhist Archaeological site
Ayeyarwaddy river
Myanmar

Inspire yourself with unique experience; touches, sounds and sights of places, peoples and rivers of Burma...
Home || Bagan architecture 1 | 2 | 3 || Country map | Bagan & around map || Travel plans || Contact tour operator || Life || Links
Mrauk U (Rakhine, Myanmar) || Luang Prabang (Laos) || Angkor Wat (Cambodia)

| Home |


Pagan ( also called Bagan ), located some 425 miles ( 680 Km ) north of Yangon in Myanmar ( Burma ), is one of the famous religious places in the world. Over 2000 temples, pagodas , stupas and shrines located in this ancient city were designed , built and decorated by master craftsmen and ordinary people in 11~13 AD.

From twilight to dusk, the setting sun on the horizon throwing its last fling of glow over the temples, stupas and pagodas is indeed a splendid and unique spectacle that could take your breath away.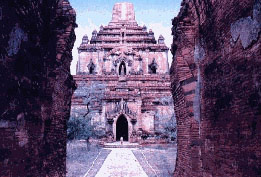 Pagan (Bagan) is the most important architectural complex in Myanmar. It is here in Pagan that the Buddhist religion took deep root, strengthening and broadening the outlook of the whole of society. It is here in Pagan that art and architecture attained a peak of achievement, creating a treasured and enduring heritage for the people. It is also in Bagan that such architectural concepts as organic architecture, the articulation of components, the balancing of horizontality and verticality, the massing of structures, the dramatizing of lighting effects, the creation of monumental and intimate spaces, the enhancement of space with decorative motifs can be seen, and where honesty of structural expression has an unsurpassed definition.

Location
Located 425 miles from Yangon, Pagan stands on the east bank of the Ayeyawaddy, commanding the central plain of Myanmar in a setting which includes the great river flowing north to south and a network of paths and tracks.

Climate
The climate of Pagan is tropical and is generally classified as hot and dry throughout the year. But the seasons can vary drastically. In the summer (March to May), the temperature rises to 43C during the day and falls to 24C in the night; the relative humidity is about 55 % in the early morning and about 20 % in the afternoon, with no rainfall or overcast and direct radiation. In the winter (November to February), the weather is cooler, with the day temperature about 30C and night temperature about 10C; relative humidity is about 30 % to 40 % , with bright blue skies. During the rest of year it is partially overcast, with moderately heavy rain at times -- 30 inches between June and October -- with two peaks, in June, at the start of the monsoon, and in October, at its end. The temperature then is about 36C during the day and about 25C at night.


---